Train at home in the best possible way.
Get ready to take your fitness and health to another level. We bring the gym to your home.
☑️ EXERCISE THE WHOLE BODY  - You can tone all the parts of your body: arms , legs and abdomen with more than 30 different exercises .
☑️ Stay fit  - Although there are no gyms or can train the air free ... Keep in shape with our ropes! 
☑️ EASY TO USE  - Suitable for  beginners and experts who want to keep fit from home in a very simple way .
☑️ TRAINS WHEREVER  - Take your rope Resistance to any site . Take it with you wherever you want. Lightweight and portable .
☑️ RESISTANT  - Non-slip and quality materials that ensure firmness and total resistance .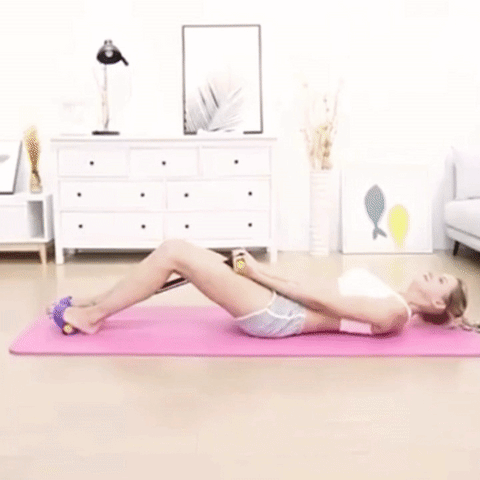 Say 
goodbye
 to 
excuses
 , get in shape today and 
keep working
 every day to 
improve your physique and health.
CHARACTERISTICS
-Material: Rubber
-Style: Unisex
-Color: Blue, Pink,Blue,Yellow and Purple.
About this article
💪 EXERCISE DICES & WATERPROOF POLYESTER CARRY BAG INCLUDED - Six-sided fitness dice with workouts printed on one side and rep counts on the other
💪 SECURE WORKOUT - Made of NBR foam and natural latex, the Pedal Resistance Band features padded hand grips and foot pedals for optimal comfort; The gripped and cushioned ends safeguard your hands and feet, so they don't slip during your workout.
FULL BODY WORKOUT: This set of pedal resistance bands and exercise dice offers an ideal workout for your arms, legs and back while standing or lying on the floor to tone your core and legs. Improves stretching and flexibility, ideal for sports, physical therapy, strength training, rehabilitation, wrestling, Pilates, yoga and much more; We provide a booklet with various exercises for proper use of this game.
Strong and Durable - The pedal resistance band is made to withstand deep stretches and won't rip or fray; not one, but four durable latex tubes will withstand your toughest workouts.
GREAT DURABILITY - With handles made of high-density foam and non-slip, wear-resistant pedals, the pedal resistance band is a long-lasting product that will withstand years of use.
LIGHTWEIGHT AND PORTABLE - The waterproof polyester carry bag we have provided, can be used almost anywhere, whether at home, on a work trip, to the local park or your gym, ideal for outdoor or indoor training .
100% money back guarantee - if you are not completely satisfied with your purchase, you can return your items and we will give you a full refund; our world-class customer service will do its best to help with your questions.
Package includes:
- 1x Bookginkgo ™ Training Rope