Large quantity of cables? Lots of small PC accessories? Now you can organize all of gadgets & tools in a NEAT & EASY way for travelling.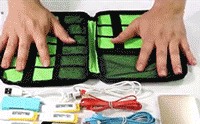 TechHub™ Gadget Organizer Bag provides excellent flexibility to allow you maximizing storage space. 
It includes 6 mesh pouches (small), 12 elastic loop spaces, 1 SD card pocket & 1 inner mesh pocket (large) for neat organizing.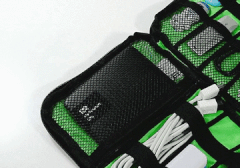 Ideal to store useful gadgets including portable charger, cable, hard drive, SD cards, USB, pens & more.
Made of heavy-duty, durable & waterproof nylon. Put your items inside to get great protection of your items from scratches, dust & accidental dropping!
Features:
Multiple Pockets for Neat Organizing - 6 Mesh Pouches + 12 Elastic Loop Spaces + 1 SD Card Pocket + 1 Large Inner Mesh Pocket
Keeps Important Devices within Quick Reach
Easy to Pack Up Items for Travelling - Collect all electronic items within 1 bag!
Portable & Compact
Water Repellent
See-through Mesh Pocket- Quickly access to your items at first glance
Double Zipper Design -  Easy & immediate access
Expandable Elastic Loops - Perfectly fit for any cable & headphone
Extra SD Card Storage -  Prevent your small SD card missing  
Product details:
Material: Nylon + Mesh covers
Dimensions: [Outer] 6.3'' x 9.4'' x 0.8'' [Inner] 6.1'' x 8.5'' x 0.8''
Package includes: